Philosophia Britannica: or, A New and Comprehensive System of the Newtonian Philosophy, Astronomy, and Geography, in a Course of Twelve Lectures, with Notes
From Wythepedia: The George Wythe Encyclopedia
by Benjamin Martin
Philosophia Britannica

Title page from Philosophia Britannica, volume one, George Wythe Collection, Wolf Law Library, College of William & Mary.

Author
Benjamin Martin
Editor
{{{editor}}}
Translator
{{{trans}}}
Published
London: Printed for John, Francis, Charles Rivington; and Thomas Carnan
Date
1788
Edition
Fourth
Language
English
Volumes
3 volume set
Pages
{{{pages}}}
Desc.
8vo. (21 cm.)
Location
[[Shelf {{{shelf}}}]]
 
[[Shelf {{{shelf2}}}]]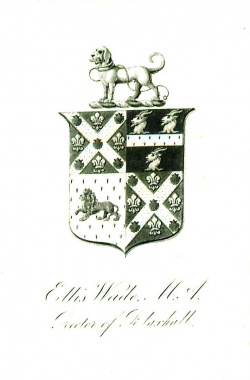 Benjamin Martin (1704-1782), lexicographer, science lecturer, and scientific instrument maker was born into a farming family in Surrey and spent the early part of his life working the lands.[1] Into his twenties, Martin started a school in Sussex where he taught a range of subjects, from writing to astronomy.[2] He even wrote inexpensive textbooks for students, including the fields of mathematics and what could be considered by modern-day standards as physics.[3]

In the 1740s, Martin began giving lectures and demonstrations in Bristol, Bath, and London, and in 1743, he published A Course of Lectures in Natural and Experimental Philosophy.[4] Three years later, in 1747, he expanded this work into the two-volume Philosophia Britannica, which was expanded again into a three volume edition in 1759.[5] Although the text of Philosophia Britannica matched that of the Course of Lectures, Martin added detailed footnotes, which themselves took up more space than the main text.[6] Lectures included in the book included "Mechanics," "Hydraulics," "Of Winds and Sounds," "Of Light and Colours," "Optics," "Astronomy," and "The Use of Globes." In the 1750s, the book was included as part of the course of study at Princeton, where it was used as the natural philosophy textbook.[7] In 1785, Thomas Jefferson sent copies of Martin's Philosophical Grammar and Philosophia Britannica, along with various other titles, to his nephew Peter Carr, in order to improve his education.[8]
Evidence for Inclusion in Wythe's Library
Listed in the Jefferson Inventory of Wythe's Library as "Martin's Philosophia Britannica. 3.v. 8vo." and given by Thomas Jefferson to his grandson, Thomas Jefferson Randolph. We do not have enough information to conclusively identify which edition Wythe owned. George Wythe's Library[9] on LibraryThing indicates this, adding "Three-volume editions in octavo were published at London in 1759, 1771, and 1788." The Brown Bibliography[10] lists the second (1712) edition based on the copy Jefferson sold to the Library of Congress.[11] Because we do not know which edition Wythe owned, and because not all editions were available for purchase, the Wolf Law Library acquired a copy of the fourth (1788) edition.

Description of the Wolf Law Library's copy
Bound in contemporary speckled calf with red morocco gilt-lettered title labels and gilt-decorated red and black morocco volume labels. Includes the armorial bookplate of Ellis Wade, M.A., Rector of Blaxhall on the front pastedown of each volume. Volume two includes the inscription "Given by Rev. Wade to E. J. Denton of St. John's College Cambridge" on the front free endpaper.

View the record for this view in William & Mary's online catalog.
References