Philological Inquiries In Three Parts
From Wythepedia: The George Wythe Encyclopedia
by James Harris
Philological Inquiries In Three Parts

Title page from Philological Inquiries In Three Parts, two volumes bound as one, George Wythe Collection, Wolf Law Library, College of William & Mary.

Author
James Harris
Editor
{{{editor}}}
Translator
{{{trans}}}
Published
London: Printed for C. Nourse
Date
1781
Edition
{{{edition}}}
Language
English
Volumes
2 volumes (3 parts) in 1 volume set
Pages
{{{pages}}}
Desc.
8vo (23 cm.)
Location
[[Shelf {{{shelf}}}]]
 
[[Shelf {{{shelf2}}}]]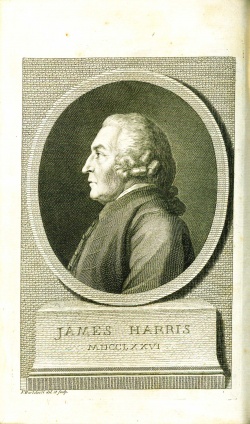 James Harris
(1709-1780), a philosopher and music patron, attended both
Wadham College
and
Lincoln's Inn
, but graduated from neither.
[1]
He and his wife Elizabeth had five children, but only three of them lived past infancy.
[2]
Harris was a great admirer of
Handel's
, and even wrote a first draft of one of the composer's librettos,
L'allegro, il penseroso ed il moderato
.
[3]
Harris served as a member of parliament for Christchurch, as commissioner of admiralty and, eventually, as secretary and comptroller for
Queen Charlotte
.
[4]
Harris had close royal ties, was elected as a fellow to the
Royal Society
, and held a Trustee position in the British Museum for the fifteen years leading up to his death in 1780.
[5]
Harris' writings held great significance among his contemporaries.
[6]
Although his writings are unfamiliar to many today, with
Philological Inquiries
, Harris made a significant contribution to historical linguistics.
[7]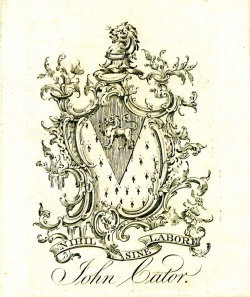 Evidence for Inclusion in Wythe's Library
Listed in the Jefferson Inventory of Wythe's Library as "Harris's Philological enquiries. 8vo." This was one of the titles kept by Thomas Jefferson. Jefferson later sold a copy to the Library of Congress in 1815, but the volume no longer exists to verify Wythe's prior ownership.[8] Both George Wythe's Library[9] on LibraryThing and the Brown Bibliography[10] list the first (1781) edition (we don't know if there were others). The Wolf Law Library followed their recommendations and purchased a copy of the first edition for the George Wythe Collection.
Description of the Wolf Law Library's copy
Bound in contemporary tree calf with spine divided in gilt compartments with gilt lozenges and lettering. Includes the bookplate of John Cator with the Latin motto "Nihil sine labore" (Without labor, nothing) on the front pastedown. Purchased from Am Here Books.

View this book in William & Mary's online catalog.
References
External Links
Read parts one and two of this book in Google Books.
Read part three of this book in Google Books.