The Law of Covenants
From Wythepedia: The George Wythe Encyclopedia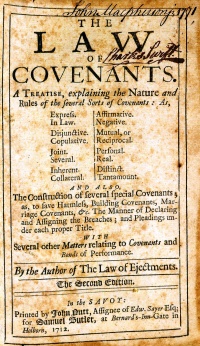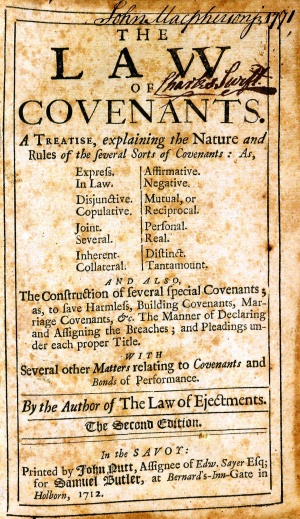 Bibliographic Information
Title: The Law of Covenants: a Treatise Explaining the Nature and Rules of the Several Sorts of Covenants.
Published: [London], In the Savoy: Printed by John Nutt, for Samuel Butler, 1712.
Edition: Second edition; [32], 512 (i.e. 496), [22] pages.
Evidence for Inclusion in Wythe's Library
Listed in the Jefferson Inventory of Wythe's Library as [Law of] Covenants 8vo. and given by Thomas Jefferson to Dabney Carr. The Brown Bibliography[1] includes the second edition while George Wythe's Library[2] on LibraryThing indicates "Precise edition unknown. The first edition was published in 1711; the second, with similar imprint, in 1712."
Description of the Wolf Law Library's copy
View this book in William & Mary's online catalog.
References
↑ Bennie Brown, "The Library of George Wythe of Williamsburg and Richmond," (unpublished manuscript, May, 2012) Microsoft Word file. Earlier edition available at: https://digitalarchive.wm.edu/handle/10288/13433
↑ LibraryThing, s. v. "Member: George Wythe," accessed on September 16, 2013, http://www.librarything.com/profile/GeorgeWythe