The History of England, from the Invasion of Julius Caesar to the Revolution of 1688
From Wythepedia: The George Wythe Encyclopedia
by David Hume
The History of England

Title page from The History of England, volume one, George Wythe Collection, Wolf Law Library, College of William & Mary.

Author
David Hume
Editor
{{{editor}}}
Translator
{{{trans}}}
Published
London: Printed for A. Millar
Date
1762
Edition
{{{edition}}}
Language
English
Volumes
6 volume set
Pages
{{{pages}}}
Desc.
4to (29 cm.)
Location
Shelf B-1
 
[[Shelf {{{shelf2}}}]]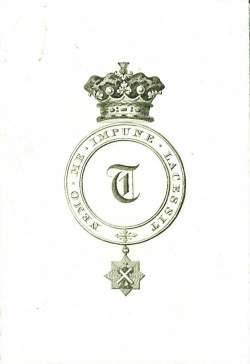 David Hume (1711–1776) is considered one of the most accomplished philosophers to write in the English language. Influencing many of his famous contemporaries, Hume is well known for his work as a historian and essayist. He is considered to be a "precursor of contemporary cognitive science" and a driving force in philosophical naturalism.[1] Born in Edinburgh, Hume attended Edinburgh University at a very young age.[2] His family intended for Hume to follow his father in law, but this was not to be. Instead, Hume devoted himself to philosophical study and writing, producing his first great work, A Treatise of Human Nature, in 1739.[3]
Other works followed, including The History of England, which was published in six volumes from 1754 to 1762 and became a best seller. The work spans English history from Caesar's invasion to the Glorious Revolution of 1688.[4] In this set, Hume attempts to give an "impartial account that looks at political institutions as historical developments responsive to Britons' experience of changing conditions, evaluating political decisions in the contexts in which they were made, instead of second-guessing them in the light of subsequent developments."[5] It was "unprecedentedly readable, in structure as well as in phrasing. Persons and events were woven into causal patterns that furnished a narrative with the goals and resting points of recurrent climaxes."[6] Future history books would be based on the writing and styles of Hume's History of England.
Evidence for Inclusion in Wythe's Library
The Brown Bibliography[7] suggests Wythe owned this title based on the probable date (1762) of notes in Thomas Jefferson's commonplace book.[8] Brown lists the 1762 edition because Jefferson purchased that set in 1764. However, he notes that the one Jefferson used from Wythe's library may have been an earlier edition. Dean's Memo[9] lists "Hume" under the section of titles Wythe assigned to his students citing a reference in William Clarkin's biography of Wythe.[10] The Wolf Law Library followed Brown's suggestion and added the 1762 edition of Hume's history.
Description of the Wolf Law Library's copy
Bound in contemporary calf with stamped decorative borders and gilt filets to covers. Spines feature five raised bands, gilt stamps and gilt lettering. Edges are marbled. Each volume includes a bookplate with the initial "T" and the motto "Nemo me impune lacessit" (No one attacks me with impunity.) surmounted by a crown.
Images of the library's copy of this book are available on Flickr. View the record for this book in William & Mary's online catalog.
See also
References