An Essay on the Law of Bailments
From Wythepedia: The George Wythe Encyclopedia
by Sir William Jones
An Essay on the Law of Bailments

Title page from An Essay on the Law of Bailments, George Wythe Collection, Wolf Law Library, College of William & Mary.

Author
Sir William Jones
Editor
{{{editor}}}
Translator
{{{trans}}}
Published
Boston: From the Press of Samuel Etheridge, for John West
Date
1796
Edition
{{{edition}}}
Language
English
Volumes
{{{set}}} volume set
Pages
[4], 178, [6]
Desc.
12mo (18 cm.)
Location
Shelf F-3
 
[[Shelf {{{shelf2}}}]]
Sir William Jones (1566 – 1640) spent some time at Furnival's Inn before being admitted to Lincoln's Inn in 1587. He was called to the bar in 1595. In 1617 he became serjeant-at-law and was appointed chief justice of the King's Bench in Ireland. An appointment as justice to the Court of Common Pleas in England followed in 1621 and a transfer to the English King's Bench in 1624.[1]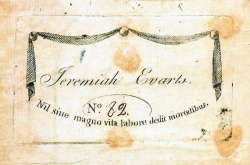 Essay on the Law of Bailments, first published in 1781, has been described as "one of the most remarkable books" of its period in which "the author's knowledge of jurisprudence, Roman law, Greek law, Mohammedan law, Mosaic law, Hindu law, and Visigothic law, is applied to elucidate its underlaying principles."[2] Another scholar, while noting that it "has ever been admired for its artistic and scholar-like finish", wrote that "it possesses very great merits as a literary production, but moderate value as a legal work for the present day."[3]
Evidence for Inclusion in Wythe's Library
Thomas Jefferson listed "[L]aw of bailments. 8vo." in his inventory of Wythe's Library in the section of titles he kept for himself. Brown's Bibliography[4] includes the 1796 edition published in Boston based on the copy Jefferson sold to the Library of Congress.[5] This may be Wythe's volume, but the book includes no markings to verify Wythe's ownership. George Wythe's Library[6] on LibraryThing lists the London first edition (1781), but notes that the 1796 edition at the Library of Congress may be the proper edition. The Wolf Law Library moved a copy of the 1796 Boston edition from another rare book collection to the George Wythe Collection.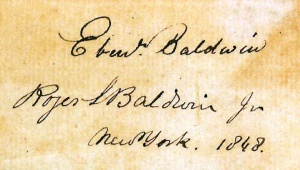 Description of the Wolf Law Library's copy
Bound in early full calf with recent reback, original spine and label attached. Includes the bookplate of Jeremiah Evarts with the Latin motto "Nil sine magno vita labore dedit mortalibus" (Life grants nothing to mortals without great work) on the front pastedown. Signed "Ebenezer Baldwin [1815]" and "Roger S. Baldwin, Jr. New York, 1848" on the front flyleaf. The signature of "Eben. Baldwin 1813" is also on the front board. Purchased through the generosity of Daniel W. Baran and Lena Stratton Baran, Class of 1936.
Images of the library's copy of this book are available on Flickr. View the record for this book in this book in William & Mary's online catalog.
Full text
See also
References