Demetriou Phalēreōs Peri Hermēneias = Demetrii Phalerei De Elocutione, Sive Dictione Rhetorica
From Wythepedia: The George Wythe Encyclopedia
by Demetrius
Demetriou Phalēreōs Peri Hermēneias

Title page from Demetriou Phalēreōs Peri Hermēneias, George Wythe Collection, Wolf Law Library, College of William & Mary.

Author
Demetrius
Editor
{{{editor}}}
Translator
{{{trans}}}
Published
Glasguae: ex officina Roberti Foulis
Date
1743
Edition
{{{edition}}}
Language
Greek and Latin on opposite pages
Volumes
{{{set}}} volume set
Pages
2 p.l., [3]-197
Desc.
8vo (18 cm.)
Location
Shelf H-2
 
[[Shelf {{{shelf2}}}]]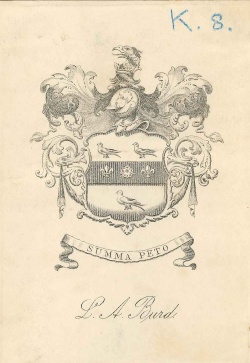 Demetrius of Phalerum (350–280 BCE) was an ancient Greek orator and writer. He rose from relative obscurity and humble beginnings to become one of the most prolific and well-known ancient Greek writers. Demetrius was born into a family which had no rank or property,[1] but there is evidence that he was educated in the school of Theophrastus.[2] At the age of twenty-five he began his public career, where he soon acquired a great reputation based on the talent he displayed in public speaking. Demetrius was eventually placed at the head of the administration of Athens.[3] He maintained this position for ten years, during which time he instituted extensive legal reforms.[4] Demetrius was very popular during his time in Athens, but was criticized by the lower class of Athenians who resented the limitations he put on democracy.[5]

Athens was captured in 307 BCE and Demetrius, at age forty-three, was forced to flee the city.[6] Following his flight, his enemies convinced the people of Athens to pass the death sentence upon him.[7] Demetrius traveled to the court of Ptolemy I at Alexandria where he devoted himself to his literary pursuits; most of his literary works were written during his time in Egypt.[8] His works covered a wide range of topics such as history, philosophy, politics, and poetry.[9]
Evidence for Inclusion in Wythe's Library
Listed in the Jefferson Inventory of Wythe's Library as Demetrius Phalereus de elocutione. Gr. Lat. Foulis. 8vo. and kept by Thomas Jefferson. Jefferson later sold a copy to the Library of Congress.[10] A copy of the 1743, Foulis edition at the Library of Congress is associated with Jefferson, but has no definitive Jefferson or Wythe markings. It does include manuscript notes in Greek. Both the Brown Bibliography[11] and George Wythe's Library[12] on LibraryThing suggest that this copy may be the one which once belonged to George Wythe. With such strong evidence at hand, the Wolf Law Library purchased a copy of the 1743 edition.
Description of the Wolf Law Library's copy
Bound in contemporary calf, rebacked with original gilt-lettered morocco label. Includes the bookplate of L.A. Burd with the Latin motto "Summa peto" (seek the highest) and the initials "K.S."

View the record for this book in William & Mary's online catalog.
See also
References