Cases Argued and Adjudged in the High Court of Chancery
From Wythepedia: The George Wythe Encyclopedia
by Thomas Vernon
Vernon's Reports

Title page from Cases Argued and Adjudged in the High Court of Chancery, volume two, George Wythe Collection, Wolf Law Library, College of William & Mary.

Author
Thomas Vernon
Editor
William Melmoth and William Peere Williams
Translator
{{{trans}}}
Published
London, In the Savoy: Printed by E. and R. Nutt and R. Gosling (assigns of Edw. Sayer) for J. Tonson
Date
1726-1728
Edition
First
Language
English
Volumes
2 volume set
Pages
{{{pages}}}
Desc.
Folio (33 cm.)
Location
Shelf G-5
 
[[Shelf {{{shelf2}}}]]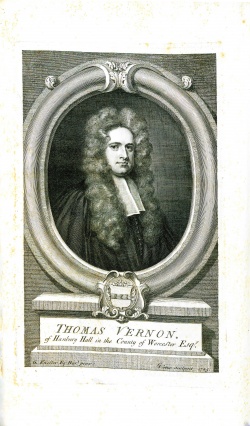 Thomas Vernon
(1654-1721), a preeminent practitioner in chancery cases and a politician in the House of Commons, was admitted to the
Middle Temple
in 1672 and called to the bar in 1679.
[1]
Vernon amassed great wealth from his labors, enabling him to develop a large country estate near Hanbury in Worchestershire. He also engaged in politics, becoming a knight of the shire in 1715. Vernon also remained active as a practitioner, working in the
chancery court
until his death in 1621.

Vernon's Reports were published posthumously, the manuscript of which was the subject of some controversy. After his death, Vernon's wife, trustees, and heirs all claimed his papers. Ultimately, the court decided to keep and publish the papers without collecting profit from the work.[2] Scholars consider the first edition of the reports, edited by William Melmoth and William Peere Williams, full of errors and making it nearly useless.[3] Later editions correct the mistakes in the first and are considered the "best of the old Chancery reporters," however, "unless they are read with scrupulous attention, they may prove to be dangerous guides."[4]
Evidence for Inclusion in Wythe's Library
There is no doubt that Wythe owned the first edition (1726-1728) of this title—a copy at the Library of Congress includes George Wythe's bookplate in each volume. We also know that Wythe ordered these reports from London merchant John Norton in a letter dated May 7, 1770. The letter's endorsement indicates it was answered on July 28, 1770.[5] Finally, Thomas Jefferson listed "Vernon's reports. 2.v. fol." in his inventory of Wythe's Library, noting that he kept the volume himself. He later sold it to the Library of Congress. Not surprisingly, all four of the Wythe Collection sources (Goodwin's pamphlet[6], Dean's Memo[7], Brown's Bibliography[8] and George Wythe's Library[9] on LibraryThing) list Vernon's Reports. The Wolf Law Library moved a copy of the first edition from another rare books collection to the George Wythe Collection.
Description of the Wolf Law Library's copy
Rebound in black leather with red leather labels and black marbelled endpapers. Purchased through the generosity of Daniel W. Baran and Lena Stratton Baran, Class of 1936.
Images of the library's copy of this book are available on Flickr. View the record for this book in William & Mary's online catalog.
See also
References
External Links
Read volume one of this book in Google Books.