Case upon the Statute for Distribution
From Wythepedia: The George Wythe Encyclopedia
by George Wythe
Case upon the Statute for Distribution

Title not held by The Wolf Law Library
at the College of William & Mary.

 
Author
George Wythe
Editor
Translator
Published
Richmond, VA: Printed by Thomas Nicolson
Date
1796
Edition
Language
English
Volumes
volume set
Pages
38
Desc.
8vo (21 cm.)
Case upon the Statute for Distribution[1] is an essay by George Wythe, a discourse concerning a 1705 Virginia statute for the distribution of a dead person's property. It was published in pamphlet form in 1796 by Thomas Nicolson of Richmond, Virginia, who had published Wythe's Reports in 1795, and at least seven other supplements for Wythe, in 1796 and after.[2] The essay was included in the second edition of Wythe's Reports, in 1852, and is summed up by the editor, B.B. Minor: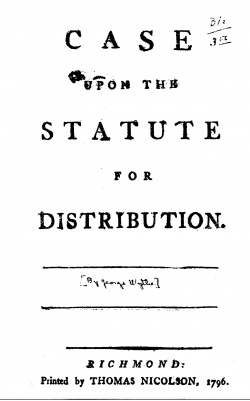 At one point in his discussion, Wythe invokes an argument of logic in Latin, ignoratio elenchi, "A mistake of the question":
The Cyclopedia of Law and Procedure (1901) cites Wythe's usage of ignoratio elenchi in 1796 as the earliest derivation.[5] It was also cited in the second edition of Black's Law Dictionary (1910).[6]
Evidence for Inclusion in Wythe's Library
Upon his death, a copy of this pamphlet which had belonged to Wythe was bequeathed with his books to Thomas Jefferson. Jefferson had the pamphlet bound into a volume with seven of Wythe's other Chancery decisions which were published as supplements.[7] Subsequently, the volume became part of the collection at the Library of Congress, titled on the spine: Wythe's Reports. Supplement. Virginia. 1796-99.[8] The pamphlet for Case upon the Statute for Distribution has a handwritten notation, "no. 1," on the first page.[9]
The copy at the Library of Congress contains "Several corrections in the text inserted in ink by Wythe."[10]
See also
References
External links