The Botanic Garden: a Poem, in Two Parts. Part I. Containing the Economy of Vegetation. Part II. The Loves of the Plants. With Philosophical Notes
From Wythepedia: The George Wythe Encyclopedia
by Erasmus Darwin
The Botanic Garden

Title page from The Botanic Garden: a Poem, in Two Parts, George Wythe Collection, Wolf Law Library, College of William & Mary.

Author
Erasmus Darwin
Editor
{{{editor}}}
Translator
{{{trans}}}
Published
New-York: Printed by T. & J. Swords
Date
1798
Edition
First American
Language
English
Volumes
{{{set}}} volume set
Pages
7, [vii]-xi, 1 l., [2], 256, x, [11]-146, [2]
Desc.
8vo (22 cm.)
Location
Shelf M-3
 
[[Shelf {{{shelf2}}}]]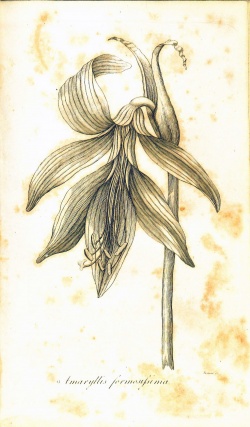 Erasmus Darwin
(1731-1802) was a physician who also wrote philosophy and poetry.
[1]
As a scientist, Darwin conducted multiple experiments that explored the relations between biology, mechanical inventions, chemistry, and botany.
[2]

Darwin's first major work of literature, published in 1789, was a didactic poem about the classification of plants in The Loves of the Plants. In this poem, Darwin attributes human characteristics and feelings to plants in sexually charged, abstract language.[3] In 1791, he joined The Loves of the Plants with a second part, The Economy of Vegetation, in a volume entitled The Botanic Garden. The Economy of Vegetation draws analogies between mechanics, the industrial process, and natural philosophy, offering "a theory of biological learning which included both mind and body."[4]

Darwin continued to probe the relationship between medicine, mechanics, philosophy, and poetry in various works that focused on history, inventions, and gender politics until his death in 1802. In addition to his scientific work and literature, Darwin designed many mechanical instruments that reveal his innovative mind. His work and viewpoint influenced his grandson, the famed Charles Darwin.[5]
Evidence for Inclusion in Wythe's Library
Listed in the Jefferson Inventory of Wythe's Library as Darwin's Botanic garden. 8vo. and given by Thomas Jefferson to his son-in-law, Thomas Mann Randolph. George Wythe's Library[6] on LibraryThing lists the 1798, first American edition, noting "Probable edition. Most of the editions published prior were in quarto." The Brown Bibliography[7] concurs, perhaps basing the choice on the copy Thomas Jefferson sold to the Library of Congress in 1815.[8] The Wolf Law Library purchased the first American edition.
Description of the Wolf Law Library's copy
Bound in full leather with maroon label on the spine and stamped in gold. Manuscript notes on rear free endpaper and rear pastedownPurchased from Riverby Books.
View the record for this book in William & Mary's online catalog.
See also
References
\