Biblos tēs Dēmosias Euchēs: Kai Yeleseōs Mystēriōn kai tōn Allōn Thesmōn kai Teletōn tēs Ekklēsias
From Wythepedia: The George Wythe Encyclopedia
by The Church of England
Book of Common Prayer (Greek)

Title page from Biblos tēs Dēmosias Euchēs, George Wythe Collection, Wolf Law Library, College of William & Mary.

Author
Church of England
Editor
{{{editor}}}
Translator
James Duport
Published
En tē Kantabrigia: Exetypōthē par' Iōannou Phieldou ...
Date
1665
Edition
{{{edition}}}
Language
Greek
Volumes
{{{set}}} volume set
Pages
[36], 126, [2]
Desc.
8vo (17 cm.)
Location
Shelf B-1
 
[[Shelf {{{shelf2}}}]]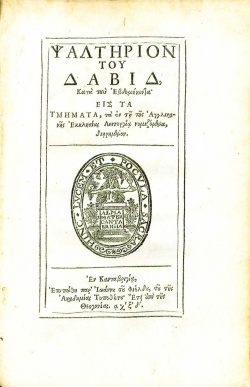 The
Book of Common Prayer
is the liturgical book of the Anglican Church.
[1]
First compiled in 1549 after the English Reformation and the separation of the Anglican Church from the Catholic Church in Rome,
[2]
, it was primarily the work of
Thomas Cranmer
, Archbishop of Canterbury under
Henry VIII
.
[3]
Within one volume, the
Book of Common Prayer
set out "the forms of service for daily and Sunday worship… morning prayer, evening prayer, the Litany, and Holy Communion ... the orders for baptism, confirmation, marriage, 'prayers to be said with the sick' and a funeral service."
[4]
The Book of Common Prayer was altered significantly in 1552 to align it more definitively with Protestant traditions. Further revisions were made in 1559, 1604, and 1662.[5] Later proposals to alter it were unsuccessful, and the version used today is substantially similar to that of 1662.[6]
The influence of the Book of Common Prayer reaches beyond the Anglican Church; its prayers have been adapted by other Protestant denominations, and its marriage and burial rights are particularly well-known.[7] After the Bible, it is the second most frequently cited book in the Oxford Dictionary of Quotations.[8] Its influence on the English language is almost as great as that of the authorized King James version of the Bible and William Shakespeare's works.[9]
In 1665, James Duport, Professor of Greek at the University of Cambridge, edited a verbatim Greek translation of the Book of Common Prayer intended primarily for use in colleges and universities.[10] Duport (1606-1679) was a tutor at Trinity College for over thirty years, and was known for taking on royalist students.[11] His other works included "A Homeric Paraphrase of the Book of Job," and Homeri Gnomologia, a collection of Homeric aphorisms annotated with quotations from the Bible and other texts.[12]
Evidence for Inclusion in Wythe's Library
George Wythe ordered "Common prayer in greek" from John Norton & Sons in a letter dated May 29, 1772. Records indicate the order was fulfilled.[13] All four of the Wythe Collection sources (Goodwin's pamphlet[14], Dean's Memo[15], Brown's Bibliography[16] and George Wythe's Library[17] on LibraryThing) refer to Wythe's letter. Neither Goodwin nor Dean identify a specific work or edition. Both Brown and LibraryThing include a 1783 edition of Biblos tēs Dēmosias Euchēs published in London.
Thomas Jefferson also listed "Liturgia Anglicana. Gr. 12mo." in his inventory of Wythe's Library. He inherited two copies from Wythe, giving one to his grandson Thomas Jefferson Randolph, and keeping one for himself. Either may be the copy of Biblos tēs Dēmosias Euchēs that Jefferson sold to the Library of Congress in 1815.[18] Unfortunately, Jefferson's copy no longer exists to verify the edition or Wythe's prior ownership. Nevertheless, the Wolf Law Library purchased a copy of the 1783 edition as listed by Brown and LibraryThing.
Description of the Wolf Law Library's copy
Bound in contemporaneous full brown polished levant with gilt double ruled frame and tooled corners. Four raised bands and gilt tooling to spine and outer gilt dentelles. Includes the inscription "E libris J. Bishop E Coll: Reg: Oxon:" on the title page. Bound with: Psaltērion tou David. (En Kantabrigia: Etypothē par' Iōannou tou Fieldou, tou tēs Akadēmias typothetou, 1664).
Images of the library's copy of this book are available on Flickr. View the record for this book in William & Mary's online catalog.
See also
References