P. Virgilii Maronis Opera
From Wythepedia: The George Wythe Encyclopedia
by Virgil
P. Virgilii Maronis Opera

Title page from P. Virgilii Maronis Opera, George Wythe Collection, Wolf Law Library, College of William & Mary.

Author
Virgil
Editor
Charles de la Rue?
Translator
{{{trans}}}
Published
Londini: Impensis W. Innys
Date
1746
Edition
Juxta editionem novissimam Parisiensem, a. 1722
Language
Latin
Volumes
{{{set}}} volume set
Pages
610, 222
Desc.
8vo (21 cm.)
Location
Shelf L-2
 
[[Shelf {{{shelf2}}}]]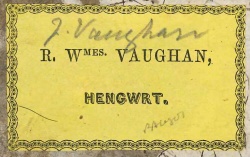 Publius Vergilius Maro (70-19BCE) was a Roman poet born in Cisalpine, Gaul, on the side of the Alps closest to Rome. His family was well-off, enabling his studies at Cremona and Milan, as well as Rome and Naples, the latter under the Epicurean philosopher Siro.[1] When land was confiscated following the battle of Phillippi in 42BCE for the army veterans of Antony and Octavian, Virgil's family lost land. They were likely compensated, however, with property near Naples.[2] Virgil's Eclogues, his first collection of poems, were likely written around that time, perhaps as late as 38BCE, as the confiscations were a central topic of two of the poems.[3] At some later point, Virgil became part of the poetic circle around Maecenas, putting him in close contact with Octavian, the future emperor Augustus.
Virgil published his Georgics in 29BCE. Throughout the 20s BCE, both of Virgil's books of poetry were widely read and distributed.[4] This particular work is described as the "latest" (novissimam) edition at the time from 1722 Paris, though publication actually was in 1746 London. No compiler or Latin scholar is identified, but the illustrator is Carolus Ruaeus. This collection of Virgil's works (Bucolica, Georgica, and the Aeneid) is accompanied by interpretations and notes, a prologue and brief explanation of Virgil's life, and an index (or "Vocabulorum") at the end.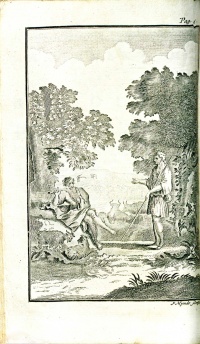 Evidence for Inclusion in Wythe's Library
Listed in the Jefferson Inventory of Wythe's Library as "Virgil Delph. 8vo." and given by Thomas Jefferson to his grandson Thomas Jefferson Randolph. The precise edition owned by Wythe is unknown. George Wythe's Library[5] on LibraryThing indicates this without selecting a specific edition. The Brown Bibliography[6] lists the 1746 edition published in London. The Wolf Law Library followed Brown's suggestion and purchased this edition.
Description of the Wolf Law Library's copy
Bound in full aniline calf with blind tooling to boards. Rebacked in period style. Includes the bookplate of R. Wmes. Vaughan with the signature of "J. Vaughan" on the front pastedown. Purchased from MW Books Ltd.
Images of the library's copy of this book are available on Flickr. View the record for this book in William & Mary's online catalog.
See also
References