Memoirs of the Late George Wythe, Esquire
From Wythepedia: The George Wythe Encyclopedia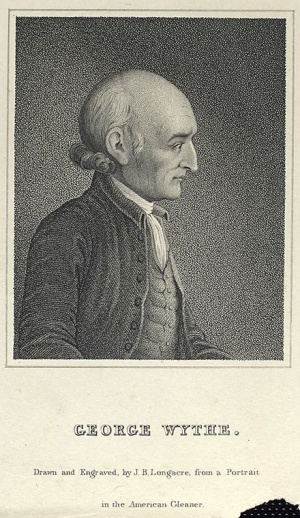 "Memoirs of the Late George Wythe, Esquire" is a tribute which appeared in the first issue of the The American Gleaner and Virginia Magazine, published in Richmond, Virginia. The magazine debuted on Saturday, January 24, 1807, seven months after Wythe's death. The article was published without a byline and the author remains anonymous.
Article text
For the AMERICAN GLEANER.
MEMOIRS
OF THE LATE
GEORGE WYTHE, ESQUIRE.
[with a correct likeness.]

The fame of the disturbers and destroyers of mankind is generally sounded very loudly by poets and historians, while the names of the peaceful benefactors of their species, of those who were noted only for virtue and wisdom, are often suffered silently to sink into oblivion. But to this observation, which, unfortunately, for the honor of human nature is to true, there have been some exceptions. The glory of Socrates although not preserved by any writings of his own, has been as lasting as that of Cæsar or Alexander; and may we not hope that the modest but truly rare and extraordinary merit of GEORGE WYTHE, the Virginian Socrates, may obtain for him a niche in the temple of immortality? At any rate it is the duty of the American biographer, who reveres republican virtue, to endeavor to commemorate it as a useful example for the imitation of his countrymen. It is his duty to give the small tribute of his applause to a perfect model of integrity, and republican purity, to the man, who dedicated almost fifty years of his life, with indefatigable diligence to the service of his country.

GEORGE WYTHE, the subject of these memoirs was born in Elizabeth City in the year 1726. His father was a respectable farmer in middling circumstances, and not remarkable for the extent of his abilities or information; but his mother was a woman of uncommon knowledge and strength of mind. She was immediately acquainted with the Latin language, which she spoke fluently, and taught her son. His education in other respects was very much neglected: for he has often informed the author of these memoirs, that he was taught at school nothing more than reading and writing English, and the five first rules of Arithmetic. Such were the only instructions he received, who, nevertheless, by the dint of his own unwearied application, became afterwards one of the most learned men in America! His first appearance on the stage of life, however, promised a character by no means similar to that which he afterwards exhibited. His parents having died before he attained the of twenty one years, he launched, on commencing the world, as unthinking youths are apt to do, into a career of dissipation and intemperance, from which he did not disengage himself until he attained his thirtieth year. I have often heard him pathetically lament the loss of those nine years of his life, and of the knowledge which might have been acquired by employing them, as well as those which succeeded them in study.