M. Acci Plauti Comoediae
From Wythepedia: The George Wythe Encyclopedia
by Titus Maccius Plautus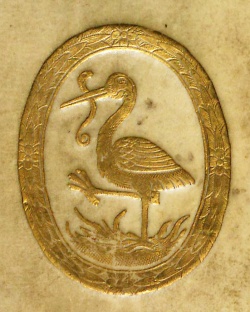 Titus Maccius Plautus
was a Roman comic playwright active between c.205 BCE and 184BCE.
[1]
He was said to have humble origins, which may help explain why his plays were targeted to entertain not just the Roman aristocracy. His are the oldest extant Roman works,
[2]
with 21 plays (20 complete and one remaining only in fragments) of 130 surviving.
[3]
Plautus freely and generously adapted Greek New Comedy, now lost, to represent and exaggerate Greek life and character. He combined Roman stereotypical views of Greeks with extensive word-play and over-the-top humor in his plays which utilized more song and recitation—about two-thirds of the total play composition—than most Roman plays, which contained mostly dialogue. In doing this, Plautus essentially wrote musical comedy.
Unfortunately, the work of Plautus is the only extant Latin language—in any form—that survives from the early second century BCE. During the Renaissance, Plautus was rediscovered, widely distributed and translated throughout Europe. Henry VIII ordered the performance of two of his plays for the French ambassador in 1526, and Plautus' influence can easily be seen throughout sixteenth-century English comedy. Shakespeare himself used the plot of the Menaechmi in The Comedy of Errors (1594).[4]

Evidence for Inclusion in Wythe's Library
Listed in the Jefferson Inventory of Wythe's Library as "[Plautus] notis varior. 2.v. 8vo." This was one of the books kept by Thomas Jefferson. He later sold a copy to the Library of Congress in 1815, but it no longer exists to verify the edition or Wythe's prior ownership.[5] The Brown Bibliography[6] and George Wythe's Library[7] on LibraryThing include the 1669 edition of M. Acci Plauti Comoediae published in Leiden based on E. Millicent Sowerby's inclusion of that edition in Catalogue of the Library of Thomas Jefferson. The Wolf Law Library purchased a copy of the same edition.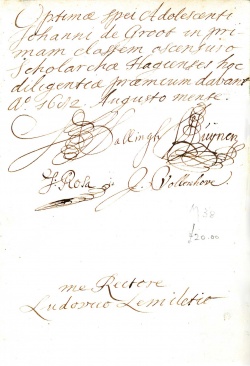 Description of the Wolf Law Library's copy
Bound in contemporary vellum with gilt tooling and gilt centerpieces showing stork and eel on front and back cover. Has fleur-de-lys tooling in corners and on spine. Front free endpaper includes Latin inscription and signatures. Purchased from Butigenus Bookcase.
Images of the library's copy of this book are available on Flickr. View the record for this book in William & Mary's online catalog.
See also
References