Lexicon Græco-Latinum Novum: In Quo Ex Primitivorum & Simplicium Fontibus Derivata Atque Composita Ordine Non Minus Naturali, Quàm Alphabetico, Breviter & Dilucidè Deducuntur
From Wythepedia: The George Wythe Encyclopedia
by Johann Scapula
Lexicon Græco-Latinum Novum

Title page from Lexicon Græco-Latinum Novum, George Wythe Collection, Wolf Law Library, College of William & Mary.

Author
Johann Scapula
Editor
{{{editor}}}
Translator
{{{trans}}}
Published
Basileæ: Apud Henricpetrinos
Date
1628
Edition
Editio ultima, priori locupletior & correctior.
Language
Greek and Latin
Volumes
{{{set}}} volume set
Pages
6 leaves, 1856 columns, [124,64,3], 7-190 columns
Desc.
Folio (34 cm.)
Location
Shelf N-5
 
[[Shelf {{{shelf2}}}]]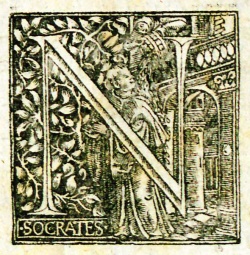 Johann Scapula was one of the many authors of Greco-Latin dictionaries during the Renaissance and Baroque eras.
[1]
The 1652 edition of his
Lexicon Graeco-Latinum Novum
contained about 60,000 lexographic entries.
[2]
Scapula's dictionary follows a principle of clustering semantically similar entries, rather than organizing alphabetically.
[3]
His "famous Greek-Latin dictionary" was utilized by other dictionary authors, notably the Greek-Slavic-Latin Lexicon by Jepyfanij Slavynec'kyj.
[4]
As an (unauthorized) abridgement of a previous dictionary by Estienne, Scapula's fit into one volume, making it cheaper, easier to handle, and more desirable than other dictionaries at the time.
[5]
Evidence for Inclusion in Wythe's Library
Listed in the Jefferson Inventory of Wythe's Library as Scapulae Lexicon. fol. and given by Thomas Jefferson to his grandson Thomas Jefferson Randolph. The precise edition owned by Wythe is unknown. George Wythe's Library[6] on LibraryThing indicates this without selecting a specific edition. The Brown Bibliography[7] lists the 1628 edition published in Basel based on the copy Jefferson sold to the Library of Congress.[8] The Wolf Law Library followed Brown's suggestion and purchased the Basel edition.
Description of the Wolf Law Library's copy
Bound in three quarters black calf over cloth covered boards with spine in six compartments with gilt stamped tile and bands. Title page signed "Ex libris Sanforde Balfour." Purchased from Powell's Bookstores, Chicago.
Images of the library's copy of this book are available on Flickr. View the record for this book in William & Mary's online catalog.
Full text
See also
References