Hudibras
From Wythepedia: The George Wythe Encyclopedia
by Samuel Butler
Hudibras

Title page from Hudibras, George Wythe Collection, Wolf Law Library, College of William & Mary.

Author
Samuel Butler
Editor
{{{editor}}}
Translator
{{{trans}}}
Published
London: Printed for John Baker, at the Black-Boy in Pater-noster-Row
Date
1709-1710
Edition
{{{edition}}}
Language
English
Volumes
{{{set}}} volume set
Pages
3 parts in 1
Desc.
16mo (14 cm.)
Location
Shelf M-3
 
[[Shelf {{{shelf2}}}]]
Samuel Butler (1613 – 1680) was an English poet most famous for Hudibras. Published in three parts from 1663 to 1677,[1] it is a coy satire that "explicit[ly] ridicule[d] Puritan folly."[2] This poem was very popular during its time and established Butler's reputation for satire. The main character, Hudibras, is a knight who is ridiculed for his Presbyterian qualities, and the plot of the poem has echoes of the Restoration.[3]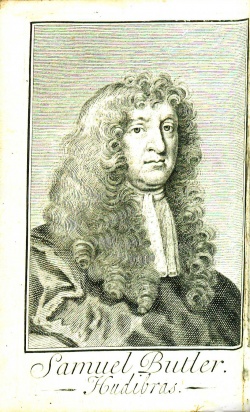 Butler has been describeded as an expressive, but neglected, writer known for his ideas about "nonconformist subversion, popish plotting, institutional corruption, and other social questions."[4] He wrote unpublished tracts on politics along with his poetry.

Evidence for Inclusion in Wythe's Library
Listed in the Jefferson Inventory of Wythe's Library as "Hudibras. p.f." This was one of the titles kept by Thomas Jefferson. Jefferson sold two copies of this title to the Library of Congress, but both copies were missing as early as 1815. None of the existing notes indicates an edition or Wythe's prior ownership of either volume.[5] George Wythe's Library[6] on LibraryThing indicates "Precise edition unknown. The Library of Congress catalogs call for an edition in 16s. Octodecimo editions were printed at London for John Baker in 1710 and 1711." The Brown Bibliography[7] includes a London 1709-1710 duodecimo edition (no publisher listed), noting that a third copy from Jefferson's library, listed as "Hudibras, p.f." was listed in the auction catalog for 1829. The Wolf Law Library followed LibraryThing's recommendation and purchased a copy of 1710 edition published by John Baker.
Description of the Wolf Law Library's copy
Bound in original calf with raised bands and gilt titling to spine. Includes inscriptions from former owners on title page. Purchased from Stainbeck Road.
Images of the library's copy of this book are available on Flickr. View the record for this book in William & Mary's online catalog.
See also
References