Hermes, or, A Philosophical Inquiry Concerning Universal Grammar
From Wythepedia: The George Wythe Encyclopedia
by James Harris
Harris' Hermes

Title page from Hermes, or, A Philosophical Inquiry Concerning Universal Grammar, George Wythe Collection, Wolf Law Library, College of William & Mary.

Author
James Harris
Editor
Translator
{{{trans}}}
Published
London: Printed for John Nourse and Paul Vaillan
Date
1771
Edition
Third, revised and corrected
Language
English, Latin, Greek
Volumes
{{{set}}} volume set
Pages
xix, 442, [27], [1]
Desc.
8vo (22 cm.)
Location
Shelf H-1
 
[[Shelf {{{shelf2}}}]]
James Harris (1709 – 1780), an English philosopher, grammarian, and music patron, attended both Wadham College and Lincoln's Inn, but graduated from neither.[1] He and his wife Elizabeth had five children, but only three of them lived past infancy.[2] Harris was a great admirer of Handel's, and even wrote a first draft of one of the composer's librettos, L'allegro, il penseroso ed il moderato.[3] Harris served as a member of parliament for Christchurch, as commissioner of admiralty and, eventually, as secretary and comptroller for Queen Charlotte.[4] Harris had close royal ties, was elected as a fellow to the Royal Society, and held a Trustee position in the British Museum for the fifteen years leading up to his death in 1780.[5]
Harris' Hermes is a scientific argument toward a universal theory of Greek, Latin, and modern grammar. Harris also wrote Philological Inquiries (1781), regarding the history and development of the use of metaphor.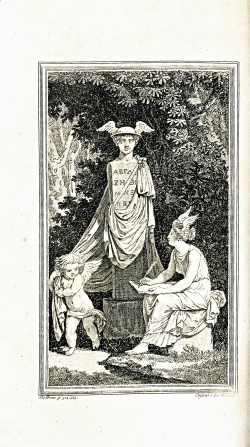 Evidence for Inclusion in Wythe's Library
Epes Sargent's biography, The Life and Public Services of Henry Clay (1852), mentions three books which were loaned or recommended to a young Henry Clay, when he worked as a copyist for Wythe in Virginia's High Court of Chancery, between 1793 and 1796:
Barbara Dean's 1975 bibliography for Colonial Williamsburg lists a "Homer" by Harris as a book belonging to Wythe, citing Clarkin's Serene Patriot (1970). Clarkin, however, had apparently consulted Carl Schurz' work, a Life of Henry Clay (1887), and Schurz misprints "Homer" for "Hermes," as it appeared in Sargent's earlier biography.[7]
Description of the Wolf Law Library's copy
Bound in full calf. Spine features raised bands and gilt rules with morocco label and gilt lettering. Images of the library's copy of this book are available on Flickr. View the record for this book in William & Mary's online catalog.
See also
References
External links