Hērodotou Halikarnēssēos Historiōn Logoi 9 Epigraphomenoi Mousai = Herodoti Halicarnassei Historiarum Libri IX Musarum Nominibus Inscripti
From Wythepedia: The George Wythe Encyclopedia
by Herodotus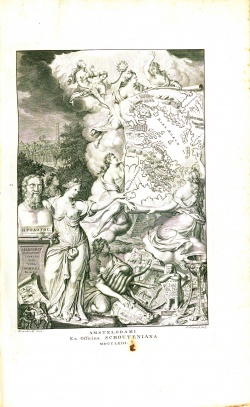 Herodotus
(c. 484 BCE–425 BCE) was the first Greek historian, and perhaps the first true historian to commit history to writing. Born in
Halicarnassus
, an Ancient Greek city in present-day Turkey on the Aegean Sea, Herodotus wrote during the third quarter of the fifth century BCE. He, and
Thucydides
following him shortly after, embraced the systematic approach of true
historia
, meaning inquiry, observation and research of events and people. Though his methods were still in the early untested stages which would be greatly improved upon by more modern historians, Herodotus began a crucial intellectual endeavor for which Ancient Greece became known.
[1]

Now considered one of the foundational books of history, Herodotus's Histories, or The History, was originally criticized and discounted by his peers. His anthropological approach to history was much less desired than more political works. Analyzing the importance of culture in key historical events, Herodotus's work fell to the wayside behind the "sharper but narrower political historiography of Thucydides." [2]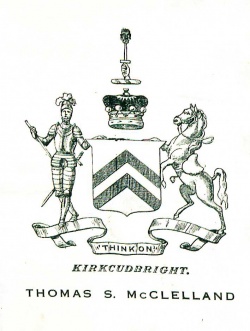 Evidence for Inclusion in Wythe's Library
Listed in the Jefferson Inventory of Wythe's Library as "Herodotus Gronovii. Gr. Lat. fol." and given by Thomas Jefferson to his grandson Thomas Jefferson Randolph. The Brown Bibliography[3] lists the 1763 edition published in Amersterdam while Barbara Dean suggests the 1761 Foulis edition in her bibliography.[4] George Wythe's Library[5] on LibraryThing states "Precise edition unknown. Several folio editions were published." The Wolf Law Library followed Brown's recommendation and purchased the edition published in Amsterdam in 1763.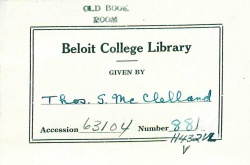 Description of the Wolf Law Library's copy
Bound in full period leather binding with new spine in speckled calf. Red morocco label with gilt lettering on spine. All edges stained red. Contains the bookplate of Thomas S. McClelland on the front pastedown and that of Beloit College Library on the front free endpaper. Purchased from Rose's Books.
Images of the library's copy of this book are available on Flickr. View the record for this book in William & Mary's online catalog.
See also
References
External Links