Engle v. Burns
From Wythepedia: The George Wythe Encyclopedia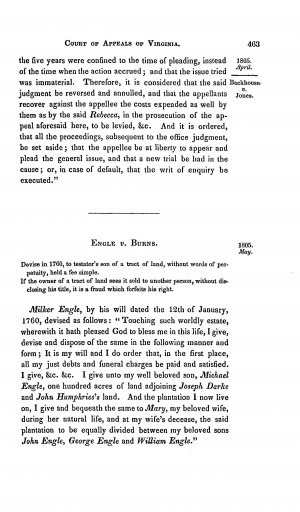 Engle v. Burns, 9 Va. (5 Call) 463 (1805),[1] was a trust and estate dispute involving the fraudulent sale of land to a third party.
Background
Michael Engle inherited 100 hundred acres of land from his father. On December 20, 1787, Michael Engle sold the acres to William Burns. Prior to the sale, Engle sold the land to Philip Engle, who was aware of Michael's agreement with William Burns. Michael never disclosed his contract with Burns. Upon learning of the fraud, William Burns sued Michael and Philip in county court. Philip Engles answered by stating that he purchased Michael Engle's life estate in the land and paid part of the money down. Michael Engles argued that Philip Engle and a friend informed him that Burns meant to cheat Michael and that he should sell the land to them.
The Court's Decision
Chancellor Wythe reversed the lower court's order that Engle convey the land in fee simple to Burns and directed that Philip Engle only convey the life estate right to Burns. The Court of Appeals reversed the ruling that only the life estate should be conveyed and ordered an account be taken regarding any money Burns paid to Engle for the property.
See also
References
↑ Daniel Call, Reports of Cases Argued and Decided in the Court of Appeals of Virginia, (Richmond: R. I. Smith, 1833), 5:463.