Archæologia Græca
From Wythepedia: The George Wythe Encyclopedia
Archæologia Græca: or, The Antiquities of Greece
by John Potter
Archæologia Græca

Title page from Archæologia Græca, volume one, George Wythe Collection, Wolf Law Library, College of William & Mary.

Author
John Potter
Editor
Translator
Published
London: Printed for J. Knapton, R. Knaplock, J. and B. Sprint, D. Midwinter, A. Bettesworth, R. Robinson, W. and J. Innys, J. Osborne, T. Longman, W. Mears, and A. Ward
Date
1728
Edition
5th
Language
{{{lang}}}
Volumes
2 volume set
Pages
Desc.
{{{desc}}}
Location
[[Shelf {{{shelf}}}]]
 
[[Shelf {{{shelf2}}}]]
John Potter
(1673/4-1747) was born in Yorkshire, England. Potter spent much of his early life in education, learning at both Queen Elizabeth Grammar School, and University College, Oxford. His years in Oxford led him to join the Church of England and abandon the Presbyterian faith of his father which caused a complete breach with his family. 1694 saw Potter's election as Yorkshire fellow of Lincoln College; he remained in that position until 1706.
[1]
During his time at Lincoln College, around the age of twenty-four, Potter became a rector. Further clerical positions followed, deacon, ordained priest, chaplain to the archbishop of Canterbury, and bishop of Oxford. In 1737, he was appointed archbishop of Canterbury, a position he held until his death ten years later.
[2]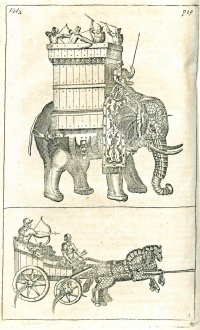 Potter published several works on the rights of the church in which he opposed contemporary efforts at reform. In addition to these, Potter, skilled in Greek and very interested in classical history, enjoyed a noted reputation for his historical works on ancient Greece such as Archæologia Græca. Originally published in 1697 and 1698, Archæologia Græca has been praised thus, "The warm eulogies of Gronovius attest the merit of this celebrated work. Potter ... had of course availed himself of the writings of Meursius, but he has also contributed to supersede them."[3]
Evidence for Inclusion in Wythe's Library
Listed in the Jefferson Inventory of Wythe's Library as Potter's antiquities. 2.v. 8vo. and given by Thomas Jefferson to his grandson Thomas Jefferson Randolph. The Brown Bibliography[4] lists the 7th edition published in London in 1751 based on the copy Jefferson sold to the Library of Congress.[5] George Wythe's Library[6] on LibraryThing indicates "Precise edition unknown. Numerous two-volume editions in octavo were published, the first in 1706." The Wolf Law Library followed Brown's recommendation and purchased the 7th edition published in London.
Description of the Wolf Law Library's copy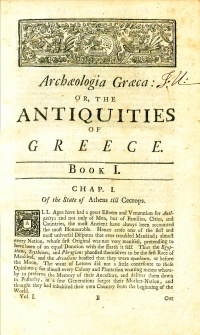 Bound in contemporary tooled paneled calf with red calf spine labels and the title page printed in red & black. Contains 31 copper engraved plates and a dollop of impressed red sealing wax on each front pastedown. Purchased from Kenneth Karmiole, Bookseller, Inc.
View this book in William & Mary's online catalog.
External Links
Volume 1:Google Books
Volume 2:Google Books
References